The flue exhaust of BETA series under-window gas convection heaters exits through the wall. The functions of these heaters are entirely comparable with other means of heating.
They are equipped with a mechanical temperature control for a heat range of 13°C to 38°C. They are very simple to use; once the target room temperature is set it is automatically maintained. BETA Mechanic gas heaters have a piezoelectric ignition with a pilot light. They are known for their high degree of operational safety throughout their service life, which can span several decades.
BETA heaters go together with any interior. They feature modern control elements, have a high degree of efficiency and a low purchase cost. They are ideal for heating family houses, cottages, shops or offices. You will particularly appreciate that BETA gas heaters can withstand freezing temperatures experienced in cottages, while not affecting their functionality.
The advantage of BETA heaters is their option to independently heat individual rooms. The right choice of heater size will ensure low gas consumption in every room while maintaining maximum efficiency.
BETA heaters are characterised by their total operational safety. The gas supply is automatically switched off in case of any faults and the combustion chamber is gas-tight.
3.9 kW heat output
Heats spaces up to 80 m³
Target room temperature is maintained automatically
Mechanical temperature control for a heat range of 13°C to 38°C
Connection to mains is not required
High efficiency
Piezoelectric ignition with a pilot light
Safe operation
Gas-tight combustion chamber
Wall mounted
Made for natural gas (G20) use, but propane-butane (G30) is also possible
| | |
| --- | --- |
| Weight (kg) | 23 |
| | black |
| | unpainted aluminum |
| Temperature control (°C) | 13 to 38 °C |
| Electrical connection | no |
| Gas connection | G ½ |
| External dimensions – w x d x h (mm) | 670 x 215 x 600 |
| Space heated (m³) | to 80 |
| Max. rated heat output (kW) | 3,9 |
| Max. rated heat input (kW) | 4,5 |
| Consumption – Natural gas (m³/h) | 0,43 |
| Consumption – Propane-butane (kg/h) | 0,32 |
| Efficiency (%) | 87 |
| | 278 |
| | 122 |
Construction of exhaust is by pipe-in-pipe system.
We sell 60 cm or 82 cm diameter exhaust tubes.
Accessories for BETA heaters are sold separately.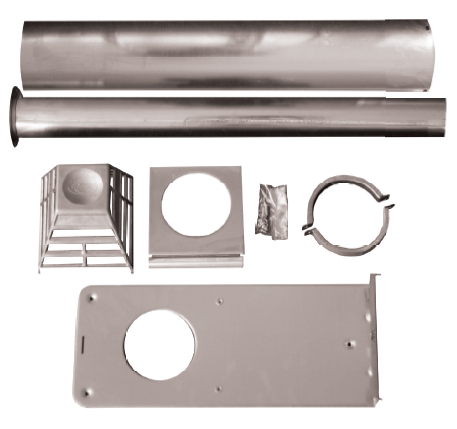 This product is displayed in the following stores: