Karma are the largest manufacturers of conventional gas heaters in the Czech Republic. They are continuing a tradition that started in 1910. In July 2006, Karma purchased Gamat – the German brand of heaters known as "WAW".
Karma – Yesterday and Today
Karma is synonymous with gas appliances. Karel Macháček (today's Karma) is a name that is known as one of the most successful and famous of Czech manufacturers. His manufacturing activities are closely tied with the beginning of the gas industry in our country. Karel Macháček was the first manufacturer to make high quality gas appliances in this country almost one hundred years ago. He gave his appliances the name Karma, which comes from the first few letters of his first and last name.
At the beginning of the 20th century, there was no domestic household gas appliance manufacturer in the Czech Republic. Foreign companies, mainly Siemens and Junkers, were importing household appliances. At that time, the use of gas appliances for cooking, water heating and ironing were relatively widespread in Vienna and Budapest. In fact, gas use in general was on the rise. In Prague, gas use was declining. This was mostly due to the advent of electric power, which started to replace gas in street and household lighting. Gas use was at a historic turning point – improvements and reconstruction of gasworks were only beginning to be considered.
However, there was an unprecedented building boom in Prague at that time. Entire streets and blocks of buildings were growing like mushrooms in small towns on both banks of the Vltava River – the beginnings of the modern metropolis of Prague. Gas was not being used for lighting in apartments at that time. It was mainly used for cooking, baking and heating water. Eventually, it was also used for heating. This situation was correctly assessed by a young industrious man who knew that Prague, a city with half million people, could not survive for very long without the manufacture and repair of gas appliances. In 1910, he founded a factory in the Vysočany district of Prague where he started making such appliances. This young man was none other than Karel Macháček.
Macháček heats up the market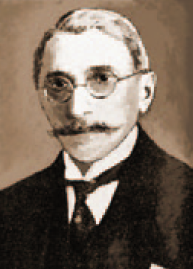 Considering the time when he was alive, this enlightened entrepreneur had very thorough knowledge of gas appliance design. After completing his studies at the Dresden Technical School, he acquired further theoretical, but most importantly practical, experience at gas appliance manufacturing factories abroad. This experience was mostly gained in Berlin (at the Siemens factory) and in Budapest. He started making high quality appliances when he moved his factory to the Libeň district of Prague in 1915. He started with water boilers and irons, and then moved on to gas cooktops, reflector stoves and radiators made from sheet metal and cast iron. He gradually moved from cylindrical, freestanding bathroom water heaters to flat, wall mounted on demand water heaters. Even today, people call these wall mounted on demand water heaters "karma" without realising the relationship to their first manufacturer.
Karel Macháček designed a number of other gas appliances, such as coffee roasters, toasters, hair and feather burners, coke and coal igniters for central heating furnaces, gas grills, meat smoking grills, pastry ovens, waffle irons and others. Karel Macháček not only copied other designs, but was also an excellent designer himself. In fact, his appliances were very technically advanced. He registered and used a number of patents for improving gas burners, shutoff valves, etc. Probably the most important patent he received was filed on 31 May 1929, No. P 3889-29. It was the solution for automatically opening the gas supply of the burner in an on-demand water heater after turning on the heater's water valve. This principle is well known and still widely used. It makes use of the difference in water pressure that occurs before and after constricting the element during water flow that takes place above and below the membrane of an automatic membrane valve.
Welcome to Český Brod

To avoid dependence on casting suppliers, Macháček followed the example of American car manufacturers by building his own modern foundry. When the new gasworks in the Michle district of Prague went into large-scale production in 1927, Macháček's new and modern manufacturing plant in Český Brod was already finished. Macháček built it to satisfy the ever-increasing demand from gas users for new gas appliances. Production of gas cookers, irons and stoves was moved to his factory in Český Brod. He also moved his model shop, moulding machines, sand blasting and enamelling shop, and two muffle furnaces to the new factory. The factory in the Libeň district of Prague was used exclusively for the manufacture and repair of water heaters with an output from 2 to 30 l/min. The factory had its own testing, chrome plating, and galvanising shops, as well as a paint shop with modern equipment.
Desirable Employer
Macháček's manufacturing plants in Libeň and Český Brod employed 140 metal workers and a 22 person administrative staff at the beginning of the 1940's. Thanks to their quality workmanship and technical advancement, Karma products became very popular among Czech gas users. Customer loyalty was further strengthened by the quality warranty and post-warranty service, as well as the helpfulness and cordial attitude of company representatives.
In 1952 the company was nationalised and the manufacture of gas appliances was transferred from KARMA and the Děčín Prometheus factory to Caloria Příbram (originally the Šmolík gas appliance factory). Unfortunately, Caloria products were not exactly known for their quality. This was probably the reason the Caloria factory was liquidated in 1964 and gas appliances started to be produced again in the original KARMA factory in Český Brod. During socialism, the Karma factory was called Okresní podnik místního průmyslu (OPMP) (County Enterprise of Local Industry) Český Brod during socialism.
KARMA Today
KARMA makes gas appliances to this day. Because the KARMA factory experienced something of a renaissance after 1989, everything good that was produced there in the past is now coming back. The joint stock company KARMA Český Brod was founded in 1991 and manufactures a wide selection of kitchen appliances, gas heating, air-conditioning and water heating equipment. Karma are the undisputed leaders on the Czech market with their portfolio of conventional gas heaters. Thanks to their quality, demand for Karma products continues to grow. KARMA'S appliances are not only successful in the European Union, but also in the countries of the former Soviet Union, such as Russia, Ukraine, Georgia and Armenia.